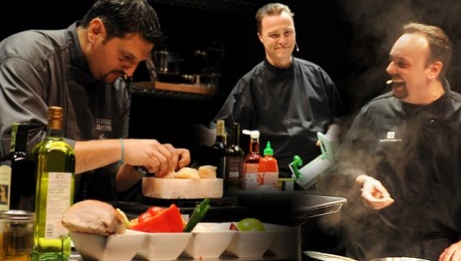 Launched by NAC Chef Michael Blackie in 2011, Celebrity Chefs of Canada is an exciting partnership between Ottawa's talented local chefs and the national superstars changing Canada's culinary landscape. All of them will converge on the National Arts Centre stage on March 25 for an unforgettable gastronomic experience!
2 Great Value Packages to choose from!
Live Demo + Tasting Reception Package: $135*
12:00 noon – 7:00pm
(Enjoy the live cooking demos followed by a fabulous food and wine tasting reception)
or
Tasting Reception + After-Party Package: $85.00*
6:30pm – 11:00pm
( Savour spectacular food and wine at the tasting reception followed by an after-party with the chefs!)
*Plus tax and gratuity
---
Live Cooking Demos
Studio 12:00 noon – 5:00pm
Celebrity Chefs of Canada 2012 kicks off with an afternoon of entertaining and educational cooking demonstrations in the NAC Studio. The Chefs will be paired up in teams of two consisting of one visiting Chef and one local Chef. Each team will have 30 minutes on stage to demonstrate a unique dish they have collaborated on and to talk about their culinary philosophies.
Food and Wine Tasting Reception
5:00pm-8:30pm
Main Foyer
The evening portion will consist of a chic food and wine tasting reception staged throughout the National Arts Centre's elegant lobby areas. Guests will have the opportunity to sample the one-of-a-kind dishes created by each Chef team. Dishes will be served with a wine pairing.
Private After-Party with the Chefs
9:00pm-11:00pm
Panorama Room
The fun continues with an exclusive after-party where guests can mingle with the Chefs while indulging in a late night dessert buffet and bubbles as our DJ spins the hottest beats.
Hosting Local Chefs
Michael Blackie, National Arts Centre
Matthew Carmichael, Restaurant 18
Jonathan Korecki, Side Door
Marc Lepine, Atelier
Patricia Larkin, Black Cat Bistro
Clifford Lyness, Brookstreet
Cesare Santaguida, Vittoria Trattoria
Jason Duffy, ARC Lounge
Visiting Chefs Confirmed to date:
Susur Lee
LEE, Toronto
Vikram Vij
Vij's, Vancouver
Jason Bangerter
LUMA, Toronto
Patrick McMurray
Star Fish, Toronto
Quang Dang
West Restaurant, Vancouver
Ned Bell
Four Seasons Hotel, Vancouver
Jason Parsons
Peller Estates, Niagara
Lynn Crawford
Ruby Watchco, Toronto
Jeremy Charles
Raymond's Restaurant, St. John's

---