Sal Capone: The Lamentable Tragedy of
Grade 9 – College/University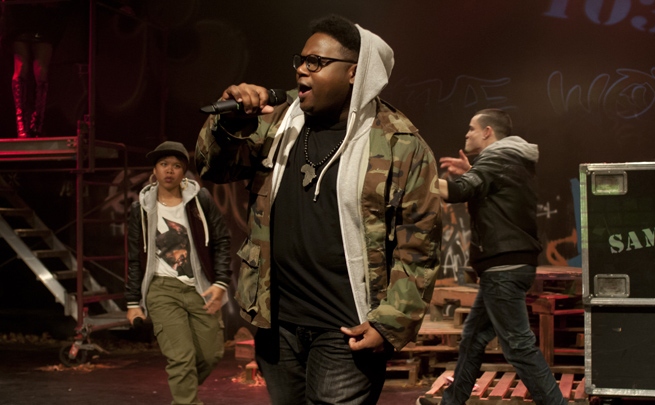 Kim Villagante, Tristan D. Lalla, Jordan Waunch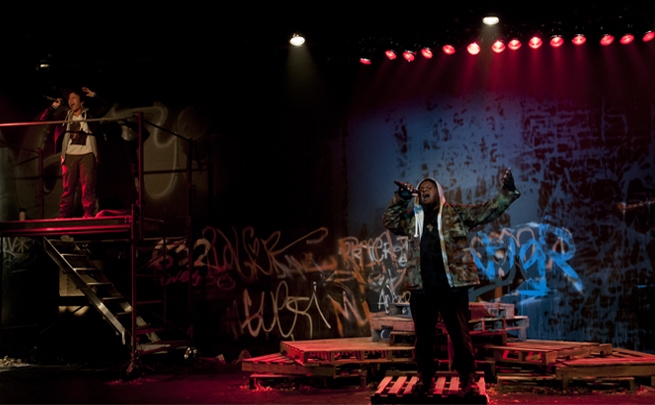 Kim Villagante, Tristan D. Lalla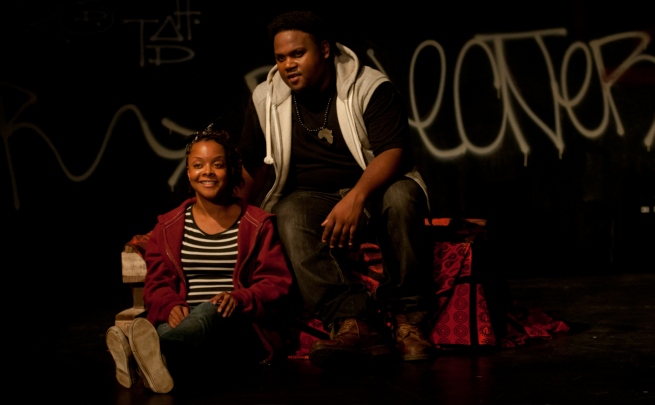 Letitia Brookes, Tristan D. Lalla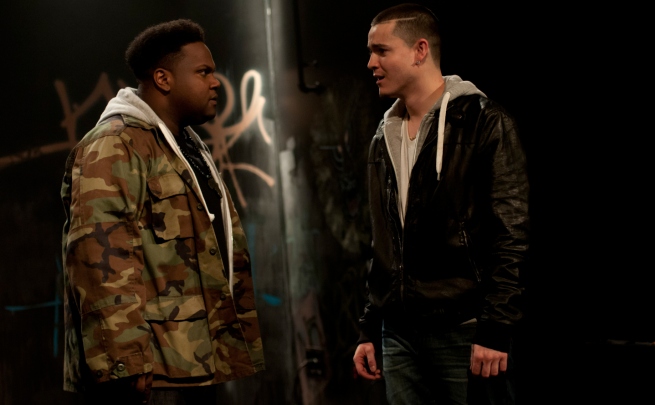 Tristan D. Lalla, Jordan Waunch
NAC English Theatre Presentation
By

Omari Newton

Directed by

Diane Roberts
$10 + HST | One act without intermission
Produced by Sal Capone Productions (Vancouver/Toronto)
Hip-hop theatre mash-up
Curriculum connections in Social Sciences, Music, Drama, Cultural Studies, Psychology
This raw and passionate tale by playwright Omari Newton digs deep into the lives of a hip-hop crew coming to terms, personally and professionally, with the police-shooting death of their DJ, Sammy. In the aftermath of the tragedy, this once-tight group struggles with grief in different ways. Do they carry on with canned beats? Or do they seek revenge? With seismic hip-hop beats and powerhouse performances, Sal Capone raises a mighty fist to the difficult issues of our time – prejudice, homophobia and injustice – with grace and wit.
Advisory: Mature themes, strong language and violence.
featuring

Tristan D. Lalla, Letitia Brookes, Troy Emery Twigg, Kim Villagante, Jordan Waunch

Sound Designer

Troy Slocum

Set and Lighting Designer

Ana Cappelluto

Video Designer

Candelario Andrade

Dramaturg

Emma Tibaldo

Costume Designer

Sarah Hall Kay

Fight Director

John Koensgen

Movement Consultant

Yvon Soglo

Stage Manager

Chantal Hayman
"Intelligent and often exciting... killer music and... dynamite performances."

The Vancouver Province
"This acting is excellent... champion this love letter to hip hop with ferocity and pride."

Montreal Rampage
"This show is alive!"

Georgia Straight
Reserve now to guarantee availability!
Reserve Now
We will follow up within 5 business days to confirm your order and calculate pricing.
Reserve and pay for your English Theatre tickets prior to October 1 and receive 5% off your total invoice.

Reserve a three-play subscription and receive 10% off your total invoice.

Combine these discounts to receive a total of 15% off!
Post-Performance Talkbacks
A post-performance talkback takes place after every student matinee performance, allowing time to debrief, discuss and debate the work, and ask the artists questions.
Free Preview Tickets for Teachers
We're pleased to offer a pair of complimentary tickets to a preview performance for teachers who have reserved for their students, allowing you and a guest to attend the performance prior to bringing your class.
Adult Supervisor Tickets
One FREE adult chaperone ticket is provided for every 15 student tickets purchased.
Reading Copies
Copies of scripts for most of our productions are available upon request. To obtain reading copies please email etedu@nac-cna.ca.
Flexible Numbers
We know it can be difficult to pin-point exact numbers in advance, so a reduction of up to 10% of your booking is permissible up to one week prior to the performance. Any reduction will be credited to your English Theatre Student Matinee account, or can be transferred to other classes within your school. Refunds will not be issued for reductions or cancellations. Additions to your booking may be made up to the day before the performance, subject to availability.
---
Complete a Reservation
You must reserve tickets to attend student matinees.
Once we receive your reservation we will follow up by email or telephone to confirm the details of your order, to calculate pricing, and to confirm any special instructions. We will then send you an invoice.
Please review ticket reservations, payments and policies prior to submitting your order.