Up to Low
Grade 7 – College/University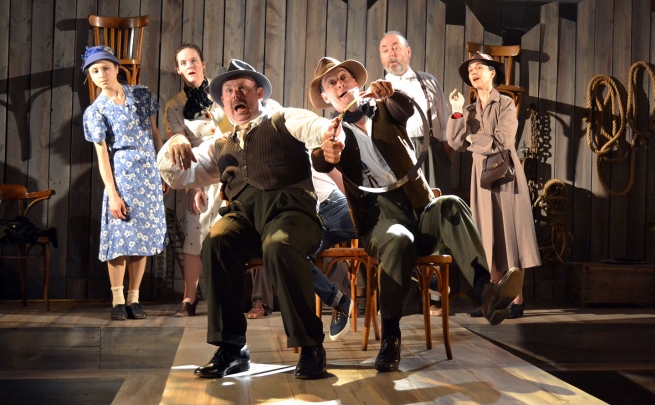 Cast of Up to Low.
Sarah Hoy
NAC English Theatre Production
By

Brian Doyle

Adapted for the stage and directed by

Janet Irwin
$13 + HST | Two acts with intermission
An NAC English Theatre Production
Heart-stirring dramatic comedy
Curriculum connections in Literature, Drama, Music, Social Sciences, Geography, Humanities
Based on the novel by Ottawa's beloved Brian Doyle, Up to Low is the magical and mystical tale of a young boy's journey to manhood. Twelve-year-old Tommy is on the road with his father and his boozy Uncle Frank, heading back to the cabin they haven't visited since Tommy's mother died. But Tommy also remembers Bridget, whose eyes are the deep green of the Gatineau Hills. Filled with deserted farms, smoky taverns and midnight rows upriver, Up to Low captures 1950s Ottawa Valley in a way that is both familiar and brand new.
Music Director

Ian Tamblyn

Featuring

Pierre Brault, Megan Carty, Attila Clemann, Brendan McMurtry-Howlett, Paul Rainville, Chris Ralph, Doreen Taylor-Claxton, Kristina Watt

Musicians

Ian Tamblyn, Ellen Daly, Pat Maher

Sets and Props Designer

Brian Smith

Costume Designer

Sarah Waghorn

Lighting Designer

Martin Conboy

Assistant Director

Attila Clemann

Dramaturg

Amanda West Lewis

Stage Manager

Laurie Champagne

Assistant Stage Manager

Jane Vanstone Osborn
"Up to Low is captivating, heart-warming, and above all, magical… definitely a show worth seeing for the whole family."

OnStageOttawa.com
JILLIAN'S NOTES
I first saw this local masterwork just across the canal at Arts Court. There's an impressive group of artists who live and work right here in Ottawa and this dark and exuberant piece showcases their great talent, telling a story close to their hearts.

JILLIAN KEILEY, ARTISTIC DIRECTOR, NAC ENGLISH THEATRE
Reserve now to guarantee availability!
Reserve Now
We will follow up within 5 business days to confirm your order and calculate pricing.
Reserve and pay for your English Theatre tickets prior to October 1 and receive 5% off your total invoice.

Reserve a three-play subscription and receive 10% off your total invoice.

Combine these discounts to receive a total of 15% off!
Post-Performance Talkbacks
A post-performance talkback takes place after every student matinee performance, allowing time to debrief, discuss and debate the work, and ask the artists questions.
Free Preview Tickets for Teachers
We're pleased to offer a pair of complimentary tickets to a preview performance for teachers who have reserved for their students, allowing you and a guest to attend the performance prior to bringing your class.
Adult Supervisor Tickets
One FREE adult chaperone ticket is provided for every 15 student tickets purchased.
Reading Copies
Copies of scripts for most of our productions are available upon request. To obtain reading copies please email etedu@nac-cna.ca.
Flexible Numbers
We know it can be difficult to pin-point exact numbers in advance, so a reduction of up to 10% of your booking is permissible up to one week prior to the performance. Any reduction will be credited to your English Theatre Student Matinee account, or can be transferred to other classes within your school. Refunds will not be issued for reductions or cancellations. Additions to your booking may be made up to the day before the performance, subject to availability.
---
Complete a Reservation
You must reserve tickets to attend student matinees.
Once we receive your reservation we will follow up by email or telephone to confirm the details of your order, to calculate pricing, and to confirm any special instructions. We will then send you an invoice.
Please review ticket reservations, payments and policies prior to submitting your order.