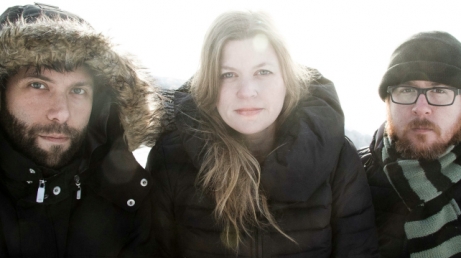 The Once is rooted in its essential musical elements – lead vocalist Hollett's incandescent voice, the trio's gorgeous harmonies and the spirited acoustic instrumentation supplied by Dale and Churchill. Hollett, who the Toronto Globe and Mail hailed as a "pure-voiced starlet," is a captivating, compassionate singer who has brought comparisons to such iconic Americana stylists as Alison Krauss, Gillian Welch and Emmylou Harris. Dale and Churchill, both talented and versatile players, utilize guitars, mandolins, banjos and even a bouzouki to build a rich musical tapestry.
The Once's story began five years ago, when the band released their 2009 self-titled, award-winning debut, which was funded by a stranger at a show who was so impressed that he offered them $5,000 to make the album. It was released by the Canadian label Borealis Records, as was its follow-up Row Upon Row Of The People They Know, for which they received the Juno nomination. The band self-released a Christmas CD in 2012 and still had that independent spirit when they started this new album. They caught the attention Nettwerk CEO Terry McBride at the Vancouver CelticFest, who offered them a label deal shortly after.
Opening act Sarah MacDougall
Described by the magazine Rootstime in Belgium as 'One of the greatest talents of our era", and listed as the "2nd best gig" by the major UK newspaper The Independent, becoming the #1 most played artist on Canadian Galaxie Folk/Roots radio, Western Canadian Music Award winning artist Sarah MacDougall is an upcoming artist who is getting known for her honest and poetic songs, passionate performances, and unique voice. Born in Sweden, 24 hrs Vancouver called her 'one of the most promising exports out of Sweden since Abba', Swedish magazine Nöjesguiden recently declared her "One of Sweden's best singer/songwriters". Sarah will be preforming songs from a newly released album Grand Canyon.