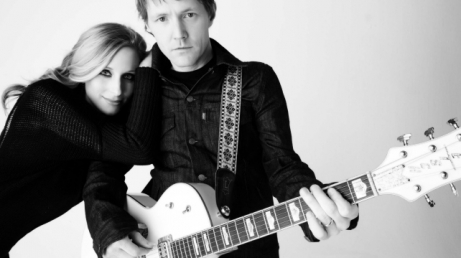 Melissa McClelland and Luke Doucet tie the musical knot with the debut of their new band, Whitehorse, marrying their talent and chemistry on a stage as a smoldering duo. Gutsy and resolute in their pursuits of sound and substance. Luke and Melissa's fusion of the personal and professional brings to mind the road-tested romance of Johnny and June.
Whitehorse's story has been told as two acclaimed musicians joining forces under one new name - no drummer, no keyboard player, violinist or even bass player on call, and no producer. Just Luke Doucet and Melissa McClelland The first album and EP demonstrate the success of this simple equation, one plus one, with an abundance of guitar slinging, songwriting expertise and white-hot desire.
Of course, the live show has been anything but simple. Melissa and Luke present a full band sound using live loops, bits and pieces percussion, and swapping guitars left right and centre on stage. By the time Whitehorse took to the stage at Toronto's esteemed Massey Hall for their sold-out debut in 2013, the edge of the ledge effect of their earliest shows had transformed into a nimble ballet of moving instruments, layers of percussion, voice and keys, layered upon each other.
Now, with the sophomore LP Leave No Bridge Unburned, Whitehorse messes with the math. The duo hired ex-pat producer Gus Van Go to make the record. The three met at the 2013 Polaris Music Prize Gala, where Whitehorse performed as a Short List nominee for The Fate of the World Depends on This Kiss. With this move, Whitehorse's studio team instantly doubled - Gus and his frequent collaborator Werner F transformed the duo's song-making dynamic into a group conversation. Leave No Bridge Unburned signals a new era for Whitehorse, a time of expanded musical influence and community.
Leave No Bridge Unburned boasts more of everything that makes Whitehorse exciting and innovative – it's Whitehorse amplified, increased, intensified. If The Fate of the World Depends on This Kiss was Whitehorse's urgent, romantic statement on uncertainty and impending disaster, Leave No Bridge Unburned is a reckoning, a confrontation. The smoulders on Fate have become a full-blown blaze, a wall of heat. Leave No Bridge Unburned is all about surging ahead; there's nothing to lose and no way to return.
Whitehorse formed in 2010 by husband and wife solo musicians Luke Doucet and Melissa McClelland. The two toured in each other's bands for years, but they put aside their award winning individual careers to build a new band out of their exceptional guitar playing, his and her harmonies and a flair for dramatic, narrative songwriting. Whitehorse has since been nominated for the Polaris Short List (2013) for The Fate of the World Depends on This Kiss, played sold out shows across Canada, and established itself in the USA as a band to watch with stellar reviews for The Fate of the World…, only their first full-length album.
Leave No Bridge Unburned sees Whitehorse shaping a bigger, bolder rock sound. Any lingering assumptions that the two are working within the boundaries of a folk duo should be put to rest. Leave No Bridge Unburned is a fiery, forceful and finely tuned album. While there's more in the mix now, more people at the board, more sonic swagger in the ears, Whitehorse will continue to be a story told of intimacy and passion. Two musicians, one band, no looking back.
Leave No Bridge Unburned will be released on Six Shooter Records on February 17, 2015.