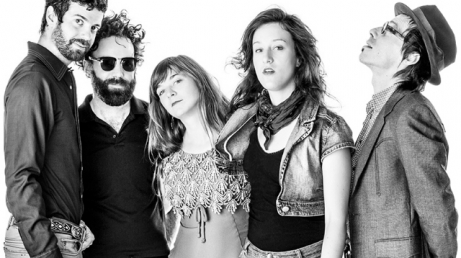 It starts with a passion for roots music, appalachian folk and deep woods country. Fuelled by life on the road, Les Chercheurs d'or's music has found root abroad. Open to the charms of their « worldy country », english Canada, America, France, Switzerland and Spain greet the band with curiosity and genuine enthusiasm.
In their own words, Les Chercheurs d'or play "Folk Glam Country Cheese Roots"! Even though the music of this Québec City quintet remains effectively very close to its roots, its appeal is universal. The beautiful country-fold ballads of Les Chercheurs d'or won some fans in Europe when they toured with their new album, released last October.
Mixed under the sun of Los Angeles with renowned engineer Sheldon Gomberg (Ben Harper, Ryan Adams, Rickie Lee Jones, Joseph Arthur, etc.), the album is made of fiction and theatrics, with characters both familiar and far, troubled, strained, yet somehow content. Songs about being on the brink, the sufferings of love, unbridled folly... taking life seriously, for all its laughable drama.