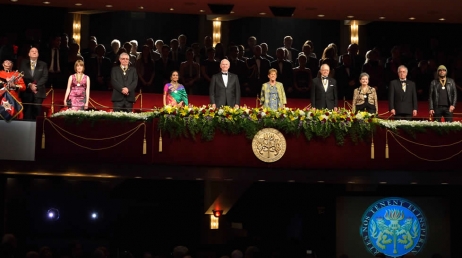 Special Events
Music
Theatre
Dance
Canadian
Bilingual

≈ 1 hour · No intermission
Watch live online as the 2014 recipients are announced from the Phi Centre in Montreal. Be the first to know which performing artists Canada will be celebrating on May 10th at the GGPAA Gala at the National Arts Centre.
In 2013 Andrew Dawes, Daniel Lanois, Jean Pierre Lefebvre, Viola Léger, Eric Peterson and Menaka Thakkar were named laureates of the prestigious Governor General's Performing Arts Awards (GGPAA) for Lifetime Artistic Achievement. The Ramon John Hnatyshyn Award for Voluntarism in the Performing Arts was given to Jean Pierre Desrosiers and Sarah Polley received the National Arts Centre Award, which recognizes exceptional achievement over the past performance year.
Canada is an Arts Nation, and for 21 years the Governor General's Performing Arts Awards has been celebrating, recognizing and inspiring the performing arts community across the country.
Stay connected: @GovGPAA #ggawards