Kemi Contemporary Dance Projects
Idiom, Sous un projecteur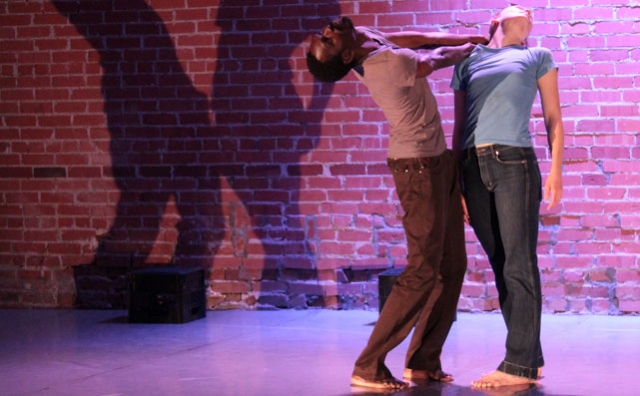 Jennifer Dallas and Bienvenue Bazié in Idiom
Photo: John MacLean
Approximately 60 minutes with no intermission.
Co-presenter: Ottawa Dance Directive | SD10#18
Jennifer Dallas (Canada) and Bienvenue Bazié (Burkina Faso) share a unique artistic sensibility. Together they perform Idiom, a compelling cross-cultural mash up which explores like and unlike cultures in musical, verbal, and movement-based idioms. The program also includes Sous un projecteur, a short solo by Bazié.
This performance is part of Face 2 Face, a series of personal performances created and inspired by experiences of Africa. View the entire lineup here.
[Converse] "Voice, humor, mimicry,
compassion – these allow an exchange
[between cultures] to happen and they
are all evident in this work. It's a hopeful
message that couldn't be clearer."

Kathleen M. Smith, The Dance Current
Jennifer Dallas

Choreography: Idiom

Bienvenue Bazié

Choreography: Idiom and Sous un projecteur
Learn More: