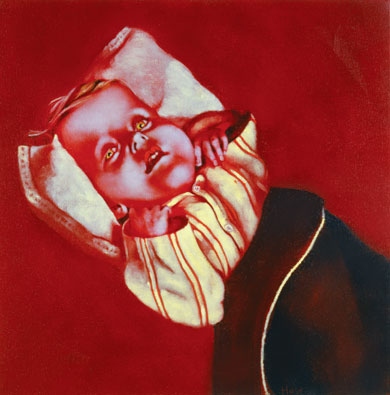 Sick Baby Doll, oil painting on canvas, 20 x 20, Holst
Once upon a time
There was a kindly zookeeper who was completely devoted to his bears,
To the point where he had given up his own freedom for their sake.
Once upon a time
There was a little wandering orphan
Who was looking for a place to call home.
The man awaited his fiancée...
The little bird-child looked for a cosy nest.
Might they understand each other, might they help each other?
When life turns upside down, where do you pin your hopes?
You may search high and low
But without that thing we call solidarity
Your efforts will be in vain.
Eldorado Theatre is known for its stunningly original productions based on unpublished works. The company appeals to young audiences with poetic stories and a highly physical acting style where movement complements the text and sets the pacing of the scenes. In this production, the company draws on the techniques of clowning to explore the expressiveness of tightly controlled movement. The two characters in the play (which earned playwright Geneviève Billette the Annick Lansman Prize) reflect experiences rarely depicted in theatre for young people. Far too many adults crack under pressure, and far too many children are affected by the stress of adults. Les ours dorment enfin is, unfortunately, all too relevant.
Written by Geneviève Billette
Directed by Stéphanie Lépine
Assistant director and stage manager: Marie-Christine Martel
Set design: Geneviève Lizotte
Sound design: Eric Shaw
Lighting design: Anne-Marie Rodrigue-Lecours
Props design: Valérie Archambault
Set assistant: Valérie Archambault
Costume construction: Sophie Limoges
Technical director: Jérémi Guilbault Asselin
Production director and stage manager: Marjorie Bélanger
Directing consultant: Benoît Vermeulen
Associate company: Théâtre Bouches Décousues
Produced by Eldorado Théâtre through a creative residency at La Maison Théâtre "La chambre d'amis," at THÉÂTRE DE LA VILLE and at LES ÉCURIES