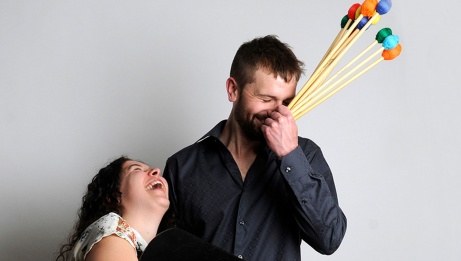 Music
Chamber music
Piano
Summer events
Chamberfest presents Starry Night with the Ottawa-based SHHH!! Ensemble. Describing their show as an "experience" (more so than a "contemporary music recital"), pianist Edana Higham and percussionist Zac Pulak explore a dreamscape full of natural and supernatural mysteries with a programme featuring new music commissioned for their project.
Starry Night flows through a dreamscape of enchanting and unexpected sounds. Beginning with reflections on the night sky, the journey continues with an exploration of the subconscious inspired by Dr. Rosalind "The Queen of Dreams" Cartwright's emotional sleep/dream theory. Then, a soundtrack to accompany moonlit rituals, including music inspired by the United Nations treaty for celestial peacekeeping. Starry Night features new music composed for SHHH!! by Monica Pearce, Jocelyn Morlock, Paolo Griffin, Mari Alice Conrad, and others.
Don't miss this unique performance that promises to be "as accessible as [it is] ground-breaking." Come to a SHHH!! show and you will encounter electrifying new music performed with passion, daring audiences to "open your ears to something different." You'll be glad you did.
Programme
Edward Enman, That Star Is Awake (2021)*
Monica Pearce, rem (2023)* ˆ
Daniel Mehdizadeh, Ritual (2021) *
Georges Aperghis (b. 1945), Retrouvailles (2013), excerpt
Mari Alice Conrad, The Moon and Other Celestial Bodies Shall Be Used Exclusively for Peaceful Purposes (2021)*
Paolo Griffin, Resonant Bodies in Space (2023)* ˆ
Georges Aperghis, Retrouvailles (2013), excerpt
Jocelyn Morlock (1969-2023), Spirit Gradient (2021)*
* written for SHHH!!
ˆ world premiere