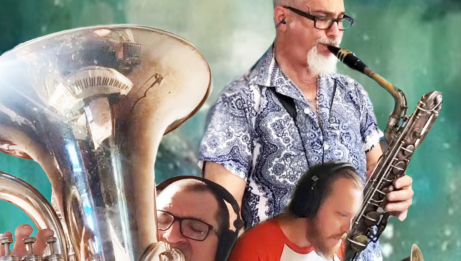 Erik Lawrence – baritone saxophone
Keith Hartshorn-Walton – tuba
Bram Kincheloe – drums
TuBari came together by the love and admiration for the late Howard Johnson shared by saxophonist Erik Lawrence and tuba player Keith Hartshorn-Walton. Along with the very expressive and creative drummer Bram Kincheloe, they have come together in a unique ensemble that features Johnson's two main instruments. Erik and Keith were both performers at a gala tribute concert in Howard's honour in 2019, where they decided they wanted to work together in the future. Erik visited Ottawa the following year for a series of concerts, and Bram was added for a proposed recording that was cancelled due to the pandemic. They persisted, however, producing various projects completed at a distance and combined virtually. They were featured performers at this year's virtual International Tuba and Euphonium Conference, and their presentation at the TD Ottawa Winter Jazz Festival will be their first appearance together in person as a trio. Their music draws on soulful jazz and rock classics, original compositions, as well as wild jams and beautiful lyricism that will surprise expectations.
Erik Lawrence has performed with Sonny Sharrock, Chico Hamilton, Levon Helm Band, and many others. He currently resides in Pittsburgh, PA.