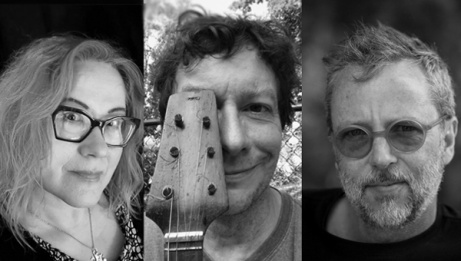 Music
Jazz
Festival events
CHRISTINE DUNCAN
2022 Carleton University Artist in Residence
A musical chameleon, Christine Duncan uses her voice as an instrument, in a wide range of diverse musical styles She is involved in everything from jazz, R&B, gospel, improvised music, sound poetry, to new music, opera, and musique actuelle. She performs with many musical groups and projects, notably with Hugh Fraser's VEJI (Vancouver Ensemble of Jazz Improvisation) since the mid 1990's, and Barnyard Drama with drummer/electronic artist Jean Martin, since 2002, and is part of the Barnyard Records family, the label run by Martin. She created and directs the Element Choir, an improvising choir in Toronto, active since 2007. Christine and the Element Choir have been performing with Inuit throat singer/experimental vocalist Tanya Tagaq since 2014, and she performs with Tagaq on voice and theremin as well. For the last few years, as a community engagement outreach, Christine has been touring, putting together and training volunteer, improvising choirs to perform in concerts, with Tagaq and her band, and with other musical ensembles, both in Canada, and internationally. Duncan and Tagaq have also been performing their piece Qiksaaktuq, (by Martin, Duncan and Tagaq) for the last couple of years, with Symphony Orchestras, in Canada and internationally. An active educator, Duncan has been teaching in the jazz programs at Humber College and the University of Toronto since 2003.
JEAN MARTIN
Jean Martin is a drummer, multi-instrumentalist, producer, and a key member of the field of creative music in Canada. Jean is based in Toronto but his network of collaborators extends throughout Canada and internationally. As a performer, some of his principal associations are with Christine Duncan Barnyard Drama, The Element Choir, Jesse Zubot, Tanya Tagaq, John Southworth, ZMF Trio, Bernard Falaise, and Justin Haynes. He has perfomed and recorded with notable artists: David Murray, Evan Parker, William Parker, Veryan Weston, Phil Minton, Craig Tayborn to name a few.
During the 1990s, he played in two legendary Canadian jazz groups: Chelsea Bridge and D.D. Jackson's Trio. He was nominated in 2004 as Best Drummer at the National Jazz Awards and received the 2004 Freddy Stone Award for excellence in contemporary music in Canada.
As a producer, Jean is best known as the Artistic Director of Barnyard Records, one of the most vital labels for contemporary music in North America. Barnyard's 40-plus title catalogue features international figures like Anthony Braxton, Evan Parker, and William Parker, but is dedicated primarily to Canada's diverse field of creative musicians and reflects both the eclecticism and excellence of its best artists, along with Jean's deft touch as a producer and recording engineer. In addition to his work with Barnyard, Jean has produced and/or engineered over 100 other recording projects in countless musical styles.
BERNARD FALAISE
Composer, improviser and guitarist Bernard Falaise has some surprisingly varied musical activities, from pop album production (Marie-Jo Thério, Jorane) to contemporary music composition and dance, theater or movie scores. This Montrealer is a member of several bands including Miriodor, Klaxon Gueule, Subtle lip can, Quartetski, L'ensemble SuperMusique and works frequently with (among others) Michel F. Côté, Pierre Labbé, Martin Tétreault, Jean Derome, Damian Nisensen. He composed works for the Bozzini string quartet, Pentaèdre wind quintet, Quasar saxophone quartet and Bradyworks among others. Mr. Falaise has released five solo albums. His second one, Clic (2007) won the best new music record Opus award in 2008.