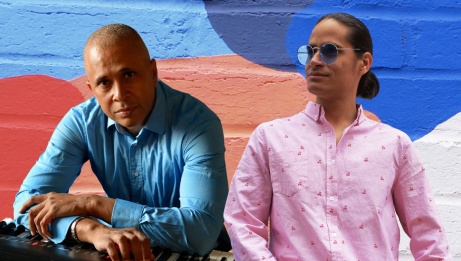 Live, from our Showboat is renowned Cuban pianist Miguel de Armas whose rich and sophisticated musical heritage, gleaned over many years of study, performance and creation has brought him international acclaim. He is joined by Andy Rubal, whose experience throughout his youth singing original salsa merengue songs brought him to some of the biggest concert halls of Cuba.
As our Showboat weaves down the Rideau canal, the pair will bring their massive repertoire and expertise in the Latin genre to the canal of Ottawa.
As co-founder of N.G. La Banda — one of Cuba's most legendary timba bands — Miguel packed concert halls around the world. He has recorded over 60 albums and has been a part of the Ottawa music scene for the past 10 years. His hope is to introduce audiences to the works of Cuban talents; whose originality are nothing short of a master class in Afro Cuban jazz performance.
At an early age, Andy was the pianist and musical director for singer Waldo Mendoza, and later toured Europe and the US with the Latin-jazz flute virtuoso Orlando Valle "Maraca". He worked as an arranger for Cuban and international artists such as Raul Paz, Juan Guillermo (JG), Gabriel Tchiema and Eva Cobo. Andy released his first album El Que Busca Encuentra with legendary label EGREM and was nominated for a Cuba Disco award for best new artist, salsa album. Catch his upcoming EP, 75 degrees, coming May 2022.
---
Let us provide the soundtrack as you walk, run, bike or rollerblade along the canal. Every Thursday evening and Saturday afternoon, members of the National Arts Centre Orchestra or a popular band will play aboard our showboat as it cruises the Rideau.