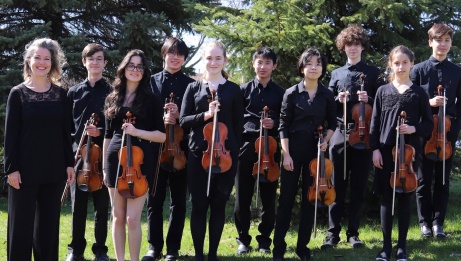 Music
Classical music
Chamber music
Violin
In-person event

Bilingual
Nine talented young violinists from the Ottawa area present an afternoon variety of music. With music ranging from familiar folk songs to well-known opera, and from the classic film The Gladfly.
The Suzuki Violin West Ottawa (SVWO) Senior Performance Groups is comprised of musicians who have grown up in the Suzuki method. This style of teaching which started in the 1940's in Japan, is based on Dr. Shinichi Suzuki's philosophy that every child can learn. The SVWO group has played throughout Ottawa and has plans for an international tour in 2023.
Their coach, Sara Mastrangelo, has taught in the Suzuki method for over 25 years, and has led violin ensembles to China, Argentina, NYC, and Boston. Sara is a member of Thirteen Strings and regularly plays with the National Arts Centre Orchestra, in addition to being on faculty at Carleton University.
This event will be ASL interpreted.
---
Program
Vivace from Concerto Two violins in D minor, BWV, 1043 by J.S. Bach
Lakme by L. Delibes, arr. A.L. Christopherson
Five Pieces for Two Violins by D. Shostakovich
1. Prelude
2. Gavotte
3. Elegy
4. Waltz
5. Polka
Salut D'Amour by E. Elgar, arr. N. Abbott
Der Erlkönig by F. Schubert, arr. T. Wermeuth
Danny Boy, Irish Traditional, arr. A. Igudesman
Bugler's Holiday by Anderson, arr. Wermeuth