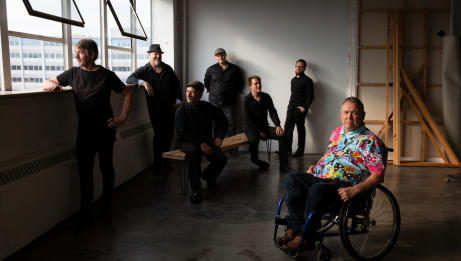 Music
Blues
Roots music
Folk
Durham County Poets are a band in the truest sense of the word. They have been performing, recording and touring since 2011. It all started in a small café in Ormstown, Quebec, after which the band continued to percolate and spread onto the Canadian music scene, allowing them to tour across Canada and into the United States. Each member writes and arranges and brings something unique to the table. You'll hear a variety of genres and a broad range of styles. Be it Blues, Soul, Folk, Gospel or Canadiana, it all weaves seamlessly together to create a truly authentic sound.
The Durham County Poets' first album, Where the River Flows, was a local hit, receiving some radio airplay and attention. It was a labour of love. The album came to be with the help of many volunteers and countless others working towards a common goal, with the band playing for very little – or for nothing at all save peanut-butter sandwiches! Finally, they were able to express themselves and showcase their musicianship and their abilities as songwriters. They remained focused and kept their strong sense of purpose. Then, with a manager on board – Heidi Fleming of FAMGroup – two more albums would follow: Chickaboodah Stew and Grimshaw Road. Their fourth album, Hand Me Down Blues, would build on that success, remaining on Roots Music Report's top 50 charts in Canada for more than 12 months.

Durham County Poets will be launching their new album "Out of the woods"