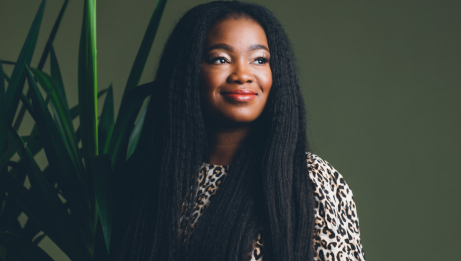 Francophone
Music
Jazz
Soul music
Global music
When Kelly Bado released her album, Hey Terre, last October, it was a bittersweet moment for the award-winning Francophone artist. Covid-19 restrictions forced her to mark the moment from afar, with a virtual performance we're now pleased to present.
As an African immigrant living in Winnipeg, Kelly is inspired by the music and cultures she has discovered in her travels to create her own blended sound.
"We all have something to learn and something to offer others – diversity is our strength. As a black Franco-Manitoban, I am very proud to present this show, to share my African roots, and also to demand a more just and sustainable world."
– Kelly Bado
About Kelly Bado
With influences from her native Africa, French chanson and American gospel, Kelly's music crosses cultural barriers to bring people together in joy and hope. Her striking voice and catchy melodies were recently recognized with two Western Canadian Music Awards: Francophone Artist and World Artist of the Year 2021.
With lyrics inspired by love and social equality, Kelly is committed to building an inclusive world where we come together as citizens of this vast global village – each bringing their unique strengths to the common experience.