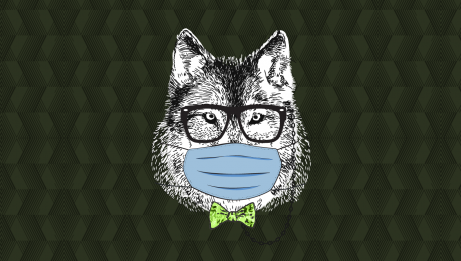 REENA ESMAIL

Tuttarana for brass quintet

Andrew Staniland

Allusions for oboe and clarinet

Kelly-Marie Murphy Glacial Ablations
Jacob ter Veldhuis

The Garden of Love for oboe and soundtrack

SIMON BOURGET

Élegie and Toccata from Trio pour cor, violoncelle et piano, Op. 7
World Premiere
NAC Co-commission
NACO Spring Offer: Bring a friend to a NACO concert in the 2021-2022 season and receive 50% off both of your tickets – that's two seats for the price of one! Offer valid for a limited time and only for select NACO performances. Discount available on regular priced tickets only and cannot be combined with other offers.
Wolfgang invites you to take another walk on the wild side with the next NACO at the Fourth: WolfGANG Sessions, featuring stellar NAC musicians in an intimate evening of musical surprises!
Indian-American composer Reena Esmail's Tuttarana for brass quintet is the third movement of a larger work called "khirkiyaan." Originally written for performance by a women's choir, Tuttarana is like lightning in a bottle, flushed with energy and drive to the last chord.
Allusions for oboe and clarinet by composer Andrew Staniland is a co-commission by Chamberfest, the NAC and Sean Rice (clarinet) and Anna Petersen (oboe). Andrew is a long-time friend of the NAC Orchestra, known for his many other works performed in WolfGANG Sessions over the years, and for his JUNO-nominated Phi, Caelestis from Encount3rs.
From Ottawa-based composer Kelly-Marie Murphy comes the world premiere of Glacial Ablations for oboe and piano, a new work written expressly for NACO's principal oboe, Charles "Chip" Hamann.
Jacob ter Veldhuis is a Dutch avant-garde classical composer, also known as Jacob TV. His The Garden of Love for oboe and soundtrack is a cheeky work based on a poem by William Blake. The "soundtrack" is a playful mix of spoken word, bird song, harpsichord, and more, with the oboe soloist dancing in, out, and on top of the mix.
Hailing from Dieppe, New Brunswick, Simon Bourget has been composing since he was 11, inspired by Mahler, Shostakovich, and Prokofiev. His Élégie was commissioned by Ottawa Chamberfest, and from that work, Simon drew the inspiration to compose the rest of his Trio Op. 7.