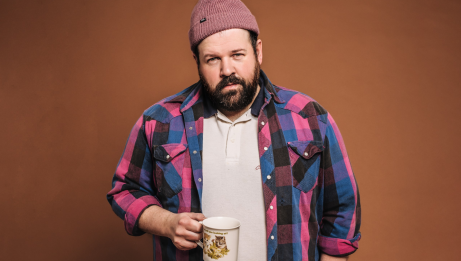 Music
Singer/Songwriter
Rock
Folk
Join Donovan Woods for a limited and intimate special solo acoustic performance. For a full band experience, tickets to Donovan Woods on May 18th are available here.
Late at night, when a hush fell over the house after his kids went to bed, Donovan Woods got to work on his latest album, Without People.
In a makeshift recording studio at his Toronto home, the acclaimed Canadian singer-songwriter tracked his vocals and guitar alone and then emailed files to producer James Bunton. As Woods' new songs took shape, backing musicians sketched out their own parts in isolation from their respective homes.
For an album made so piecemeal, Without People (out now on Woods' Meant Well label) has been acclaimed as "a nuanced experience" (American Songwriter), a thoughtful exploration of "fleeting interpersonal moments now under the microscope" (NPR/KUTX) and "various aspects of human connection" (Rolling Stone), and for striking "a gentle, poignant note" (Billboard).
So much of the album's allure is rooted in how Woods connects with his collaborators and imparts the intimacy we all crave right now.
And now there's even more to love about the album, which ranks as Woods' most successful release ever, with more than 10 million streams and climbing.
As the follow-up to The Other Way, Woods' stark 2019 release that acoustically reimagined Both Ways(2018), Without People prompted Woods to reckon with why his songwriting has been so invested in the human condition throughout his decade-long career. The short answer? Relationships are what bind us, and what matters most is how we treat one another and whether we're truly listening and trying to understand experiences distinct from our own.