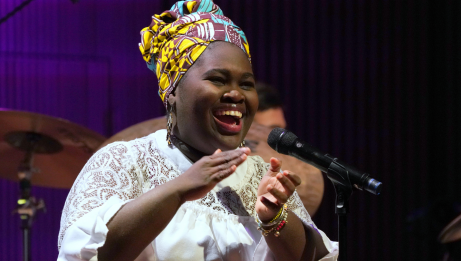 Music
Singer/Songwriter
Jazz
With her captivating charisma and radiant spirit, Daymé Arocena effortlessly blends traditional Santerían chant, jazz stylings, contemporary R&B influences, and Afro-Cuban rhythmic complexity for audiences worldwide. Her passion for the musical traditions of her homeland is boundless – "reigniting the Cuban soundtrack wherever she plays" (NPR). At every performance, Daymé coaxes her audiences into lively call-and-response chants with an irrepressible smile on her face, enamoring the whole audience in her charm. "Scat-singing over her trio's swaying rhumbas and cha-cha-chas," (DownBeat), Daymé's impact upon the history of Cuban music is undeniable.
On September 6, 2019, Daymé released Sonocardiogram on Brownswood Recordings to resounding critical applause. Celebrating the rich elements of Afro-Cuban culture and Santería, Sonocardiogram also tells the story of Daymé as a creative spirit. The album is a finely crafted arc exploring her sources of Santería, dedication to legacy of Afro-Cuban musicians, an homage to family, and of course always inspired, sincere, and hopeful.
Daymé looks forward to the release of a new, upbeat Latin dance themed album in late 2021.
Limited tickets, physically distanced