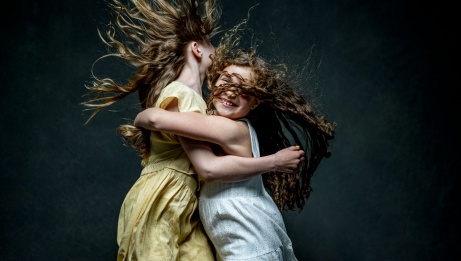 "Is your star card full?"
Zoom event

Français

Ages 5+

≈ 1 hour 30 minutes · No intermission
It's been so long since we've seen each other, we've been dreaming of a very special reunion. And so, we welcome you to a dynamic universe, possibly neo-fluo, post-rococo or a bit electro—anything is POSSIBLE. What we do know is that you'll be propelled into the future to play a game of cosmic bingo with your family!
The year is 2042. Remnants of an ancient game have been found inside the NAC: peculiar cards with a star in the middle. At first, we thought they were treasure maps, but no, it turns out they're mysterious bingo cards ...
A master of ceremonies to lead the festivities. A card you make yourself (just think, you could put all your lucky numbers on it!). A few "BINGOs" shouted here and there. Not to mention some surprise guests! We'll see you soon for a collective takeoff to a DIY future. Decorate your living room. Put on your best cosmic outfit and get ready for quite a trip!
Live broadcast on Zoom | Reservations required | For all ages (with adult supervision)
INSTRUCTIONS TO FOLLOW
Before the event
Print one bingo card for each player. Find the card to print below!

Provide each player with: a rubber stamp, a highlighter, old buttons or even a handful of Cheerios (you'll use them to stamp or cover the numbers on your bingo card).

If you feel like it: With your child(ren), gather 25 small objects that are related or belong to a collection. Small mismatched objects are also fine—the idea is to have fun finding unconventional tokens around the house.
Psst! Don't forget, you can decorate your living room and put on your finest cosmic costumes: it's 2042!
At the beginning of the event
Follow the MC's instructions to personalize your bingo card (you can write your lucky numbers in the empty spaces, and add colour to your card if you haven't already).

All you have to do now is wait for the instructions for playing a game of cosmic bingo. The rules will be explained by an expert!
Click here for the bingo card and the terms and conditions of the event.