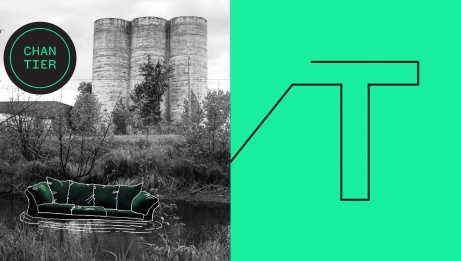 Very limited seating
A gigantic couch intersects the lives of three characters, in a fragmented, almost elusive space-time. Three characters meet there: Zac and Beckie, a couple torn between cynical disillusionment and whole-hearted political commitment, and their friend Cass, who crashes there for only one night, between two trips. It's Cass, whose mind is plagued by end-of-the-world anxieties, who suddenly disappears. And in the cracks of the couch, only the bitter taste of betrayal remains.
Part installation part play, Sombre divan centres on a huge couch where all the action takes place. Playwright Michel  Ouellette opted for a literal interpretation of his initial inspiration: the image of an oversized couch, which gradually took shape both inside and outside the rehearsal room. A  camera captures the creators' slightest gestures; bodies in movement converge there, exploring all its possibilities.