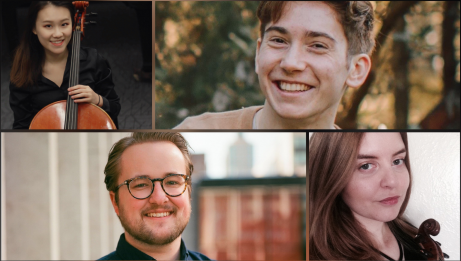 Borodin

Quartet No. 2

Alexina Louie

Quartet No. 2

FELIX MENDELSSOHN

Capriccio in E minor for string quartet
≈ 1 hour · No intermission
This concert, the third in our noon-hour series celebrating the NAC Orchestra at 50 years young, features more outstanding young artists who have passed through the Orchestra's elite music training programs.
Sofia-Marie Bergeron (violin) is a 2018–2019 alumnus of the University of Ottawa's arm of the Institute for Orchestral Studies, a special stream for outstanding students of strings. Tovin Allers (violin), participated in the precollege Young Artists Program (YAP) in 2016. Jacob van der Sloot (viola) is an alumni of the 2011 and 2012 precollege YAP and the 2016 and 2017 senior YAP. In 2018, he won the Friends of NACO Award in the NAC Orchestra's Bursary Competition. Kitty Chan (cello) was a participant in the University of Ottawa's stream of the Institute for Orchestral Studies in 2017–18, and again in 2018-19.
We also tip our hats to the composers, both contemporary and traditional, who make it possible for these young performers to shine. Borodin's Quartet No. 2 is beautiful and romantic -- and one of the last pieces he wrote as he devoted more and more of his time to the pursuit of his equally successful career in chemistry. Vancouver-born composer Alexina Louie is a 2002 recipient of the NAC Composers Award, and her Quartet No. 2 premiered in 2003 at the Great Composers Festival in Ottawa. Felix Mendelssohn's Capriccio for String Quartet is full of life and overtly passionate, with its richly layered melodic lines – a perfect vehicle for the talent and enthusiasm of these young artists.
The NAC and the uOttawa School of Music celebrate their 50 years this year.
50 years of sharing music and moments, students and teachers; of exchanging knowledge, experiences and spaces; and of championing a common vision of musical excellence.
The NAC's 50th anniversary events and programs are made possible with support from Gail Asper, O.C., O.M., LL.D. and Michael Paterson, Bonnie and John Buhler, Alice and Grant Burton, Margaret Fountain, C.M., DFA (h) and David Fountain, C.M., Elinor Gill Ratcliffe, C.M., O.N.L., LL.D. (hc). Janice and Earle O'Born, Gail O'Brien, LL.D. and David O'Brien, O.C., and Dasha Shenkman, OBE, Hon RCM.