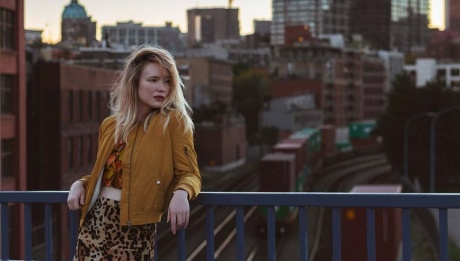 Doors open at 6:30, come early and grab a drink!
$10 Student tickets available in advance for this show, with valid student card.
Skye Wallace is what happens when a classically trained singer with east coast roots discovers punk rock in their youth and writes folk music that makes you feel excited.
Hailed as a "national treasure" (Sad Mag), Skye embodies Canadiana. With a voice that effortlessly floats between sultry purrs to powerful yelps, and a band that will take you from somber lows to kitchen party highs, Skye's live show is a force to be reckoned with. She's been named one of Canada's best female artists by Chart Attack, "Fire" by Noisey, and with a new album currently underway she'll be hitting stages across Canada and Europe in 2018, exciting audiences one show at a time.
Tickets are available at the NAC Box Office until 6:30 pm the day of the show. Doors open for the show at 6:30 and all are welcome to hang out in the Fourth Stage until 8:00 pm on Fridays. If you've been in the Fourth Stage without at ticket on a Friday and decide to stay for the show, a cover charge is applicable: $15 for adults, $10 for students.