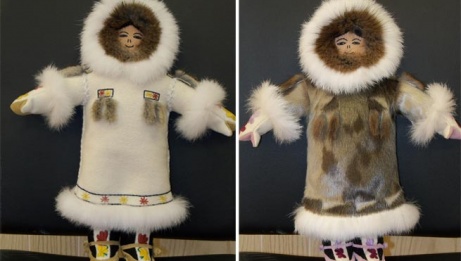 Workshop length: 8 hours | Ages 16+ | Please bring a lunch
Max. 4 participants | $150 fee includes materials

Lucy Nigiyok has lived in Ulukhaktok her entire life and celebrates quality in all she does. A purist, she does not own a sewing machine, favouring hand-sewing as her ancestors before her did and taking pride in every stitch. Taught by her mother, printmaker and sewer Mabel Nigiyok, Lucy has also been influenced by her peers and other family members. She continuously looks for ways to create new art that reflects her culture and sewing skills.
Marvel at Lucy's dexterity as she guides you in the creation of a doll and parka made with Melton wool and fur, yours to take home. By participating in this sewing circle, you help keep an Inuit tradition alive, as Inuit dolls are among the few dolls anywhere in the world that are neither mass-produced nor culturally debased.
*Ideal for participants who are experienced in hand-sewing.