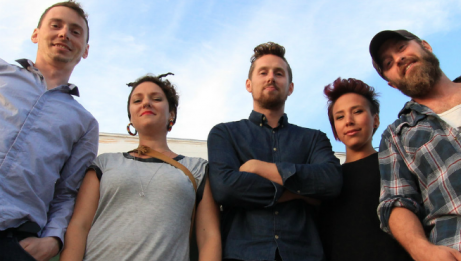 Fast-rising northern stars The Jerry Cans create music inspired by their hometown of Iqaluit. A unique mix of Inuktitut alt-country, throat singing, and reggae combines to make them a distinctly northern, one-of-a-kind group. Performing many of their songs in Inuktitut, the band is passionate about preserving the language, even as the North and their home community of Iqaluit continue to evolve. They are committed to challenging common misperceptions about life in the Arctic with music that evokes the contemporary North and the spirited people who reside there.
This truly unique band will take you on a rollicking stroll through the streets of Iqaluit to share a glimpse of life in the Arctic.
The Jerry Cans are Andrew Morrison (vocals, guitar), Nancy Mike (accordion, throat singing), Gina Burgess (violin), Brendan Doherty (bass), Steve Rigby (drums).
This concert is part of Canada Scene's free Scene@6 series, running every evening at 6:00 from July 2 to 23. The series showcases this country's top folk, roots, world, and jazz artists in the NAC's new Atrium.