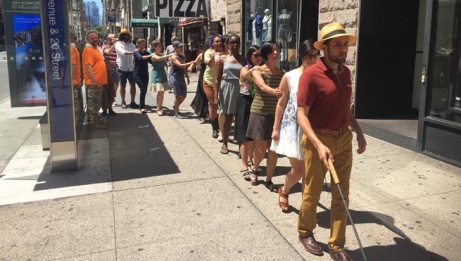 Vancouver-based social practice artist Carmen Papalia is undertaking a cross-country, movement-building campaign to challenge the prevailing paradigm for accessibility. Papalia's ideas are grounded in his own experiences of access as a non-visual learner and in the inflexible institutional support services that routinely disempower the people they are intended to serve.
On June 25, Papalia invites you to March for a New Accessibility. Join the artist in solidarity and march for Open Access, a new model that suggests we become accountable to each other rather than to governmental or institutional policy in matters of access and support.
The march will culminate in a short talk in which the artist will address the Canadian government's planned legislation for a so-called Accessible Canada.
Presented by the Ottawa Art Gallery in partnership with the NAC's Canada Scene.