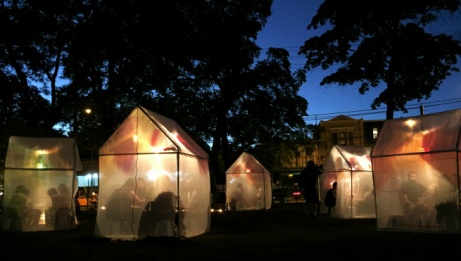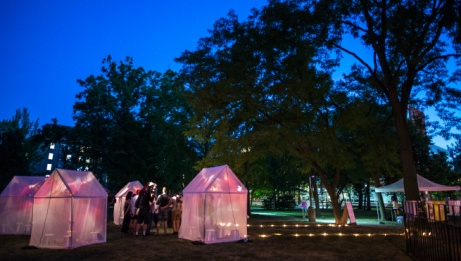 Theatre
Visual Arts
Storytelling
You encounter a city of tents nestled into the ByWard Market and are invited into one, greeted by someone who tells you the story of a moment in their life when everything changed. This is Trophy, an interactive performance installation where guests roam, visiting as many tents as they feel drawn to, reflecting on the turning points in their own lives, and examining universal themes like love, childhood, work, and loss. Over the course of the day, the tents are transformed into multi-coloured translucent structures, and with every encounter, the installation changes.
Wakefield, Quebec's STO Union is a multidisciplinary company with an open and porous approach to their art. Drawing from multiple sources of inspiration, knowledge, and artistic disciplines, STO Union creates multilayered productions that offer audiences different ways to engage with a theatrical experience. Founded in 1992 by Artistic Director and Siminovitch Prize-winner Nadia Ross, STO Union's projects are led by either Ross or her protégé Sarah Conn, the company's Artistic Producer.
1 PM - 11 PM in the ByWard Market
Trophy is created by STO Union, and presented in partnership with the National Arts Centre's Canada Scene, L'Atelier, and Ottawa 2017. Trophy is funded in part by Canada 150, Ontario 150, Community Foundation of Ottawa, and Ottawa 2017's Arts, Culture and Heritage Program (stewarded by AOE Arts Council, Ottawa Arts Council and Council of Heritage Organizations in Ottawa).