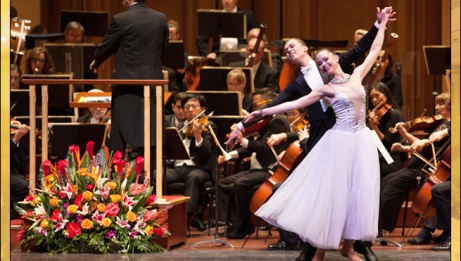 Music
Classical music
Dance
Ballet with Orchestra
Holidays
Strauss Symphony of Canada
Niels Muus, conductor (Vienna)
Lilla Galambos, soprano (Vienna)
Thomas Weinhappel, baritone (Vienna)
Featuring dancers from
Kiev-Aniko Ballet of Ukraine &
International Champion Ballroom Dancers
More celebratory than a glass of champagne, Salute to Vienna New Year's Concert is a delight for the eyes and the ears. Welcome 2017 with this elegant concert—celebrating a 12-year tradition in Ottawa! This January 2, a stunning new program featuring Strauss waltzes and sweeping melodies from operettas will be performed by a full orchestra, acclaimed European singers, ballet and ballroom dancers. Fall for the Blue Danube Waltz all over again!
Produced by Attila Glatz Concert Productions
Artists subject to change without notice
VIP ticket-holders will watch the concert from the very best seats, and are invited to an exclusive post-performance event with the artists for autograph signing. Bring your camera for photos! To select a VIP ticket, choose the $135 price on the orchestra floor.