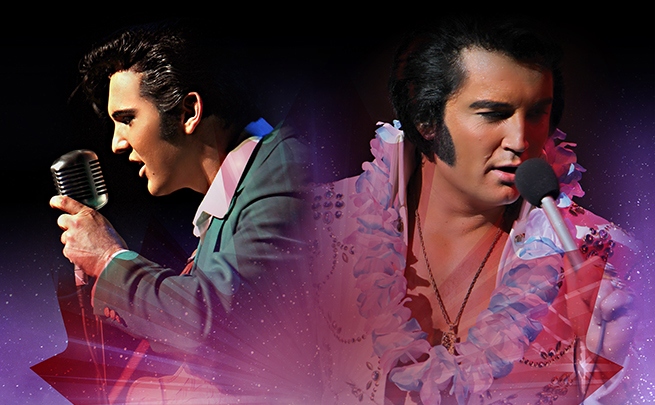 Elvis Presley needs no introduction. He is the undisputed King of Rock and Roll. What is less known is that during his incredible career, he performed just three times outside of the United States. Those shows were all in Canada, namely Ottawa, Toronto and Vancouver. Elvis made an unforgettable appearance in Ottawa on April 3, 1957.
'The King is Back' will celebrate the 60th anniversary of this historic event. It will headline not one but two of Elvis Presley Enterprises' Ultimate Elvis Tribute Artists - Ben Portsmouth from the UK and Cody Slaughter from the US. Ben and Cody are both consummate performers and both appeared on the Late Show with David Letterman in 2013. Also performing will be the 'Sweet Inspirations, including Estelle Brown, one of Elvis' original back-up vocalists.
The first part of the show, Elvis '56, features Cody Slaughter with David Fontana and the Hillbilly Kats, an authentic 4-piece band to replicate what Elvis had in the 50's. David is the son of DJ Fontana, who was Elvis' drummer of 14 years and inductee into the Rock and Roll Hall of Fame. Elvis '56 is a tribute to the King of Rock and Roll in the year he went from being a Hillbilly Cat to the King of Rock and Roll.
Ben will perform many of Elvis' biggest hits from the 70's concert years wearing Elvis' trademark jumpsuit. Ben's triple octave vocal range and perfect pitch allows him to hit the most challenging high notes. The Sweet Inspirations will provide back-up vocals for the second half. Musical arrangement for the second set will be led by the Casino Brothers Band.
Former Ottawa TV personality, Derick Fage, currently host of BT Television in Montreal will be the Master of Ceremonies for the evening.
Relive the magic of Elvis – this will be a night to remember!