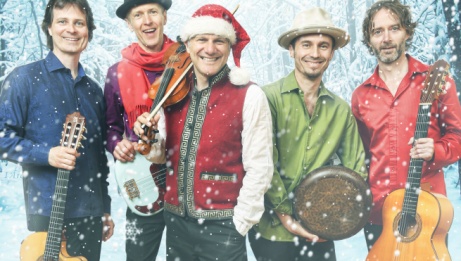 Music
Singer/Songwriter
Folk
Holidays
Celebrate the season with an adventurous musical trip around the world! 2015 JUNO Award nominees Sultans of String deliver an exuberant performance featuring originals, world-music inspired classics, and seasonal favourites to warm your heart on a cold winter's night. From fiery fiddle tunes to a Caribbean sleigh ride, this surprising and delightful holiday fiesta heats up when Sultans of String bring their signature sound to well known gems such as Jesu, Joy of Man's Desiring, The Huron Carol (with gorgeous newly-translated Indigenous lyrics), Little Drummer Boy, a Feliz Navidad ska party, a Turkish twist on Greensleeves, A Charlie Brown Christmas, as well as a Gypsy-jazz inspired Django Christmas, and a Rumba-Flamenca fuelled Jingle Bells. Sultans of String are joined by shimmering guest vocalist Rebecca Campbell (Jane Siberry, Emmylou Harris, Alanis Morissette).
Since forming 10 years ago, Sultans of String have hit #1 across Canada on Top 10 national radio charts, and received multiple awards and accolades, including 2 JUNO Award nominations (Canada's Grammy), 1st place in the ISC (15,000 entries), and 2 Canadian Folk Music Awards out of 8 nominations. Bandleader and violinist Chris McKhool was recently awarded a Queen's Diamond Jubilee Medal for his work in creating community through music.
When McKhool (who has performed with Jesse Cook and Pavlo), first heard founding guitarist Kevin Laliberté's (Jesse Cook) rumba rhythm, their musical synergy created Sultans of String's signature sound – the intimate and playful relationship between violin and guitar. From this rich foundation, the dynamic duo grew, featuring such amazing musical friends as in-the-pocket bass master Drew Birston (Chantal Kreviazuk), jaw-dropping Cuban percussionist Rosendo Chendy Leon (Parachute Club, Alex Cuba), and guitarist Eddie Paton (Robert Michaels).
Sultans of String have been crisscrossing North America for the last several years. Equally at home in a concert series, folk or jazz club, or festival setting, they have been featured at many taste-making forums such as JUNOFest, legendary jazz club Birdland in NYC, the renowned Celtic Connections Festival in the UK, and California's hip music scene, including the San Jose Jazz Festival. They recently sold out Koerner Hall (Toronto's Carnegie Hall), and performed with Toronto, Vancouver, and Edmonton Symphony Orchestras. Sultans of String have performed live on BBC TV, Irish National Radio, and the internationally syndicated shows WoodSongs, and on SiriusXM in Washington DC.