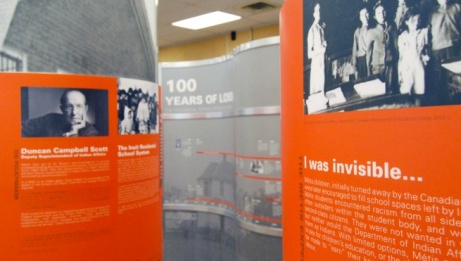 This bilingual exhibition, created by the Legacy of Hope Foundation, raises awareness and understanding of the history and legacies of the Residential School System in Canada. Through archival photographs and documents, first-person testimonies, and evocative works of art, the exhibition encourages us to learn about this difficult history, to recognize its legacies in our country today, and to contribute our own acts of reconciliation.
For more information: www.legacyofhope.ca
The exhibition is available for viewing daily from 2pm onwards.
Explore with us: the Scavenger Hunt, created by the Legacy of Hope Foundation, consists of questions designed to engage teachers and students, and to encourage closer examination of the content in 100 Years of Loss. Answers included.