Ottawa Jazz Orchestra
Bird and Oliver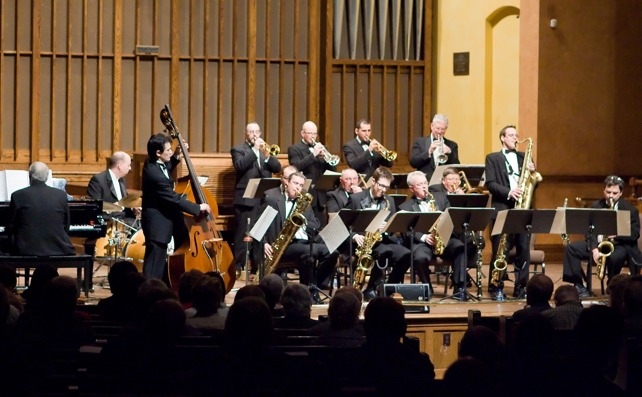 Ask yourself if it gets any better than this: The Ottawa Jazz Orchestra will begin this concert with a performance of the entire 1961 album The Blues and the Abstract Truth featuring music composed and performed by saxophonist Oliver Nelson. This is a suite for small group featuring four horns and rhythm section. The main event will feature alto saxophonist Sandy Gordon performing selections from the seminal Charlie Parker with Strings albums which were recorded in 1949 and 1950. You'll hear the original beautiful arrangements and the soaring saxophone parts originally played by Bird backed by a small orchestra of strings, woodwinds, and a jazz rhythm section. The programme will even include a number of charts that were written for the original recording sessions but were never actually recorded!
The Ottawa Jazz Orchestra (OJO), based in Ottawa and founded in 2006, brings together many of Canada's finest professional jazz and symphony orchestra musicians under the direction of bassist Adrian Cho. This unique ensemble has garnered kudos from both critics and audiences for its highly entertaining, innovative and educational presentations of seminal jazz-centric music performed by a wide range of ensembles including small chamber jazz groups, repertory orchestras, neophonic orchestras and a full symphonic jazz orchestra. The OJO's broad repertoire of music includes original compositions; the gamut of jazz and pre-jazz repertory from as far back as 1850; and jazz-influenced neoclassical works. In addition to a full season of concerts at the National Arts Centre, the orchestra frequently performs at the invitation of event organisers including the National Capital Commission, the City of Ottawa and various festivals.
Purchase 5 concerts for $130 (regular price $150) or pick any 3 concerts for $80 (regular price $90).
Offer available in person at the NAC Box Office or by phone at 613 947-7000 x620.