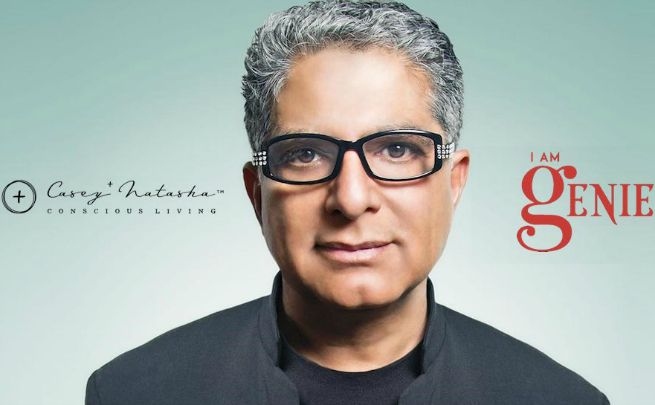 Join Deepak in Ottawa for an I Am Genie Wishes Fulfilled event as he creates a roadmap for "higher health," based on the latest findings in both mainstream and alternative medicine. Time magazine has described Dr. Chopra as one of the top 100 heroes and icons of the century and credits him as "the poet-prophet of alternative medicine."
Deepak will address these questions as well as practical ways to experience higher consciousness, transformation and healing.
• Are we in the midst of a major paradigm shift in science?
• Is there an ultimate reality?
• Does consciousness conceive, govern, construct and become the physical universe?
• Is the universe becoming self aware in the human nervous system?
• Is the next stage of human development conscious evolution?
• Do we have the ability to influence the future evolution of the cosmos?
• How does our understanding of consciousness as pure potentiality enhance our capacity for intuition, creativity, conscious choice making, healing, and the awakening of dormant potentials such as non local communication and non local sensory experience?
• How does our understanding of consciousness also enhance our capacity for total well being (physical, emotional, spiritual, social, community, financial and ecological)?
DEEPAK CHOPRA is the author of more eighty books translated into over forty-three languages, including twenty-two New York Times bestsellers in both the fiction and nonfiction categories. Deepak is the Founder of The Chopra Foundation, Co-Founder and Chairman of the Board of The Chopra Center for Wellbeing, Founder of The Chopra Well on YouTube, and serves as an Adjunct Professor at Kellogg School of Management at Northwestern University, Adjunct Professor at Columbia Business School, Columbia University, Assistant Clinical Professor, in the Family and Preventive Medicine Department at the University of California, San Diego, Health Sciences, Faculty at Walt Disney Imagineering and Senior Scientist with The Gallup Organization. The World Post and The Huffington Post global internet survey ranked Dr. Chopra #40 influential thinker in world and #1 in Medicine.
www.deepakchopra.com
I AM GENIE FOUNDATION EVENTS
We've produced numerous life-changing inspirational events with some of the most inspirational speakers in the world. Some of the people we've worked with include Deepak Chopra, Dr Wayne Dyer, Jack Canfield, James Van Praagh, Gabrielle Bernstein and Marianne Williamson. When you buy a ticket for this or any of our events, 100% of the profit goes to the I Am Genie Foundation to fuel wishes. So, you may have already granted a wish today.