L'après-midi d'un foehn - Version 1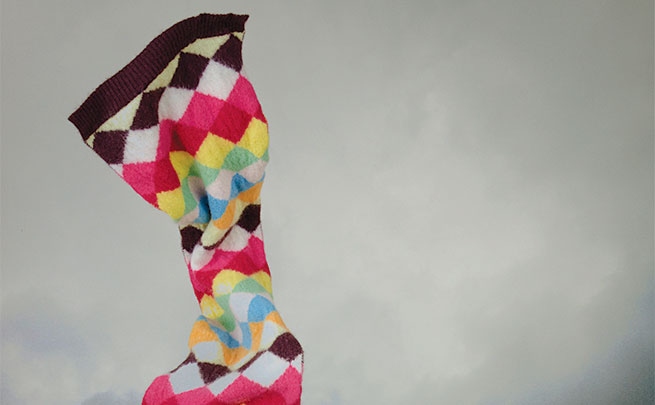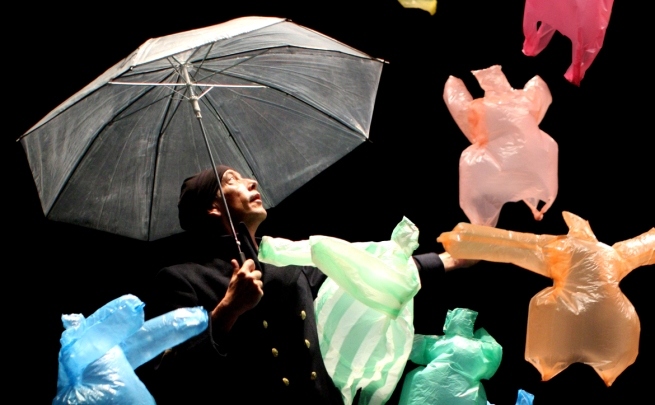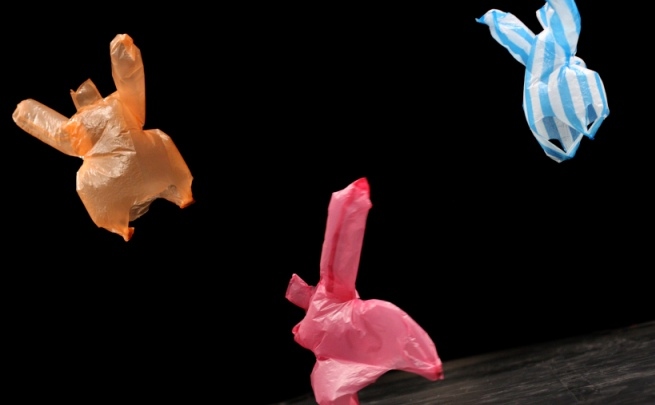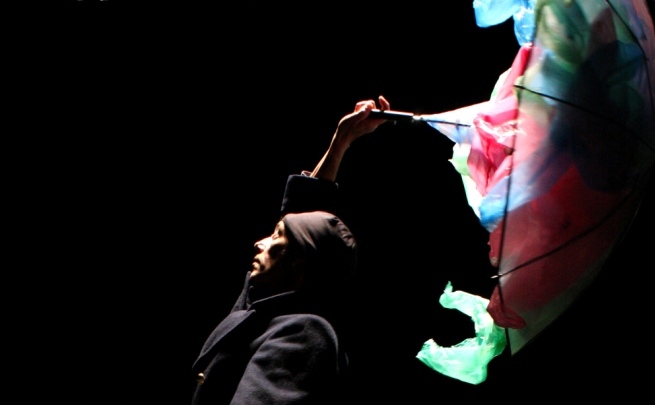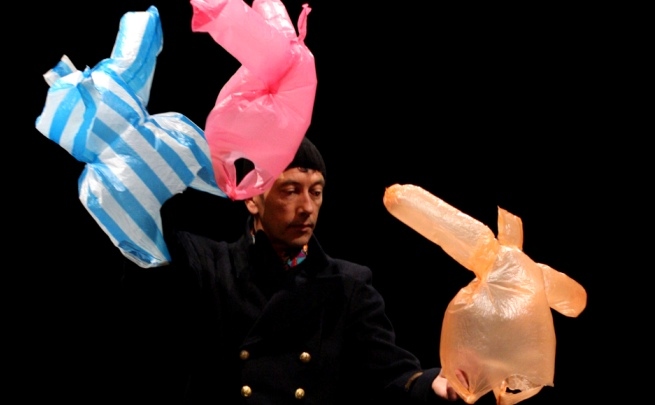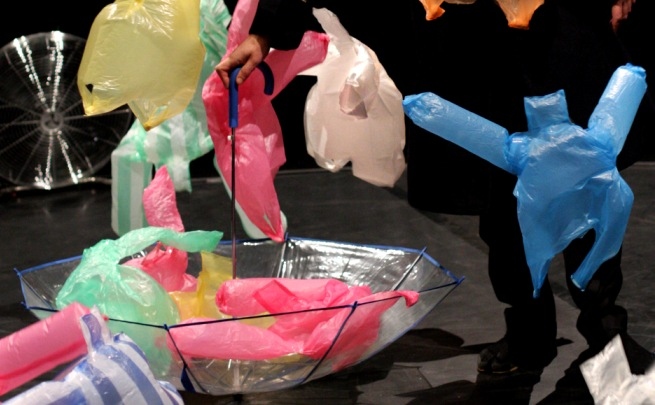 Ages 5 and up
At the edge of the ring, a circle of inward-facing fans; in the middle, a rather odd-looking puppeteer who plays with the currents of air to animate an unusual cast of characters: small, multicoloured plastic bags that catch the updrafts, twirl through the air, and send our imaginations soaring! A graceful and poetic juggling act that reminds us that things aren't always as ordinary as they seem.
---
Surrounding the ring, a regiment of carefully positioned, inward-facing fans. In the middle, a rather odd-looking puppeteer, a few props, and dozens of plastic bags. As we hear the first few notes of Debussy's well-known prelude, a breeze starts to blow: it's a foehn, a warm mountain wind, and it's coming from all those fans. And the little grocery bags start to move! They come alive! Caught on the rising drafts, juggled by the mysterious ballet master, they begin an astonishing airborne dance, and soon the space is filled with multicoloured shapes joyously swirling to the music.
Phia Ménard will manipulate anything (except puppets) and juggle anything (except balls). Indeed, the artistic director of Compagnie Non Nova prefers to work with things that are elusive and difficult to grasp. This time she has chosen to explore something you can't even see: the wind. Its gentle breezes and violent gusts inspired L'après-midi d'un foehn, a one-of-a-kind fairy tale for plastic-bag characters. With disarming simplicity, Phia Ménard invites us to "see things in a new way" with a show that defies the laws of gravity and sets the imagination free, in a giddy celebration of everyday things and their potential for transformation.
C'est à une véritable épopée que nous sommes conviés, une lutte pour vivre et s'épanouir, dans un monde où de toute façon, nous sommes soumis à des forces incontrôlables. Enfin, il n'est plus possible après ce spectacle de passer à côté des sacs plastiques sans les voir…

Dominique Duthuit, France
La performeuse Phia Ménard se débat contre le vent. Un spectacle rare et troublant.

Mathieu Braunstein, Télérama
In L'Après-Midi d'un Foehn, Ménard takes the humble plastic bag, scourge of our age, and turns it into a magical performer. Ingeniously, the precise alignment of the fans and the varied strength of current enable Ménard to choreograph this unconventional dance company with astonishing precision.

Sarah Hemming, Financial Times
A french mime artist uses plastic bags to create a show that is unique and utterly captivating. [...] Plastic bags become flying superheroes, floating ghosts, feisty little creatures who dance and fight [...]. It is the best use of the derided plastic bag I have ever seen.

Neil Norman, Express.co.
Assistant director: Jean‑Luc Beaujault
Sound: Ivan Roussel, based on Claude Debussy's Prélude à l'après-midi d'un faune (Prelude to the Afternoon of a Faun)
Marionnettes: Phia Ménard and Claire Rigaud
Stage manager: Claire Fesselier
Produced by: Compagnie Non Nova