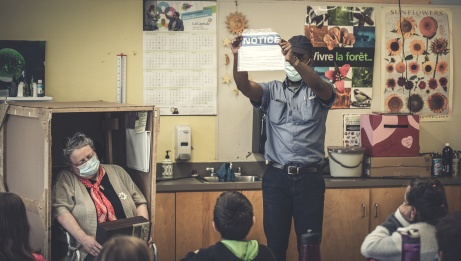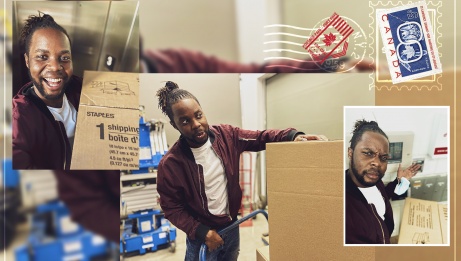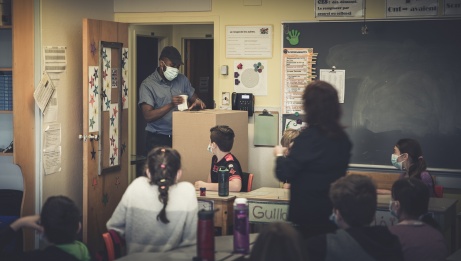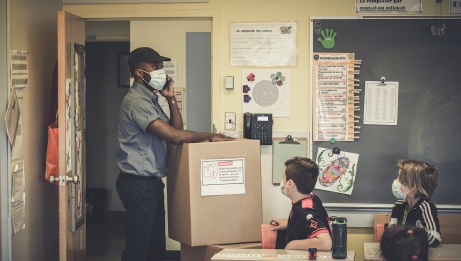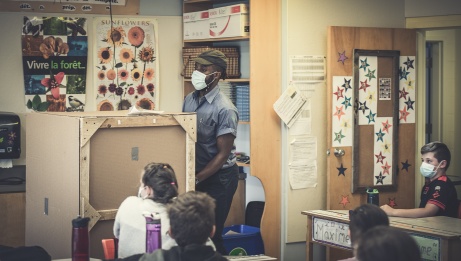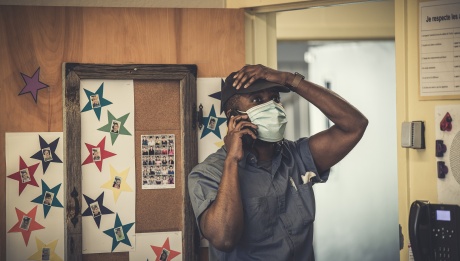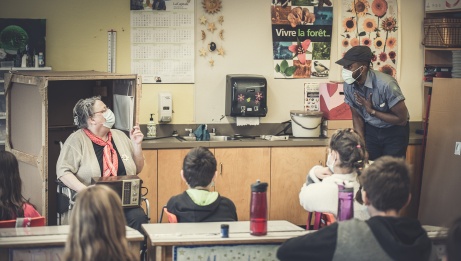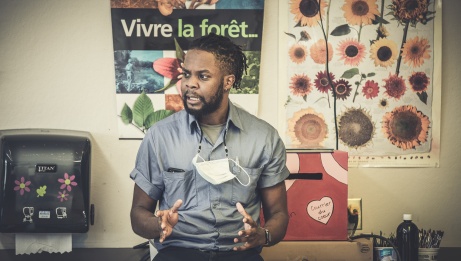 In-person event

Français

Ages 8-12
| Performance options | Start time | Language | Availability |
| --- | --- | --- | --- |
| Monday, November 21, 2022 | 9:00 am | French | sold out |
| Tuesday, November 22, 2022 | 9:00 am | French | sold out |
| Wednesday, November 23, 2022 | 9:00 am | French | sold out |
"Small travelling version"
The delivery man has mixed up his parcels. Eventually he finds the one he's looking for. It contains 83-year-old Rita, who is part of the "School Integration Program for the Elderly." She comes with accessories: a wheelchair and a portable radio. We'll have to find a good spot for her to listen to her music and nap. She naps a lot. She'll need to be cared for. Hygiene and nutrition. Instruction manual. Any questions? The delivery man is also a bit of a slammer. He takes advantage of the old lady's nap to slam about his life, his deliveries, his misfortunes.
Rita's radio goes into overdrive. The delivery man pulls out all the stops. The old lady wakes up. The delivery man sees his life flash before his eyes: a long conveyor belt full of packages. The radio raps about people nobody notices. The old lady and the delivery man, in a heartfelt appeal, cry out in chorus: No one looks at us, no one sees us. Rita hangs her head. Her memories float up to the ceiling. But it's already time for another delivery. We know what it is. The packages have to reach their destination. But here's a solemn promise: by the end of the day, someone in this class will have learned to fly.
This show is performed in the classroom. The show is performed a minimum of twice and a maximum of three times per day, per school. The fee ($400 including HST) includes the performance and workshop for one class.
Description of the activity
First session: Performance in the classroom. Duration: 35 minutes
Second session: In-person creative workshop
The journey continues with an artistic creation workshop in which the young people will. among other things, learn about the world of slam and rap by exploring the origins of these oral poems and creating their own texts to recite.
Duration: 45–60 minutes. The workshop will take place within 10 days of the classroom performance.
Topics discussed: Taking care of living things / Going beyond appearances / Freedom and Imagination / Speed and Performance