TD Ottawa Jazz Festival
The Claudia Quintet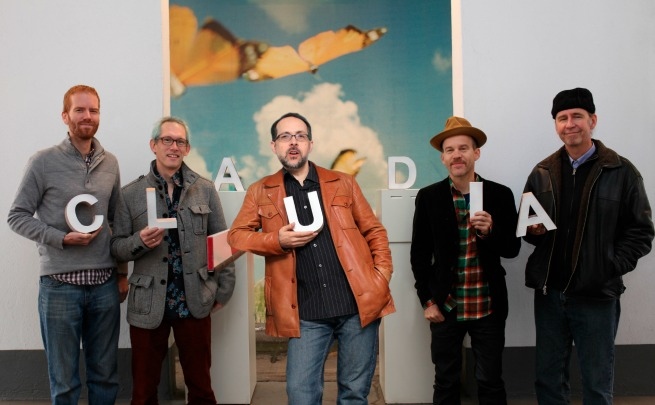 Featuring:
Drew Gress – Bass
Matt Moran – Vibraphone
Red Wierenga – Accordion
Chris Speed – Clarinet and tenor saxophone
John Hollenbeck - Drums
Since its formation in 1997, the quintet—drummer John Hollenbeck, multi-reed player Chris Speed, keyboardist Red Wierenga, vibraphonist Matt Moran and bassist Drew Gress—has remained true to its original mission of creating distinctive improvisational chamber music that defies categorization. Over the course of seven albums, the ensemble has been a highly effective, exceptionally varied vehicle for Hollenbeck's music, which reflects influences ranging from cabaret to Brazilian rhythms. Although it goes under a collective name and performs Hollenbeck's music, he has always made it clear that the individuals give the band its personality. The presence of Wierenga's accordion and Moran's vibes provide rich textures, while Hollenbeck continuously proves himself to be one of the most expressive percussionists in jazz. Subtle, ephemeral, yet always accessible, the Claudia Quintet—despite several personnel changes—has proven to be one of the sturdiest ensembles in contemporary jazz.
Here's how to access the Back Stage:
Arriving by car/parking
Please park in P2 in the K, L, M sections. Exit near the Rideau Canal and follow the pink signs that say Back Stage and the helpful staff who will direct you.
Arriving by foot/public transit
We recommend you use the Mackenzie King Bridge entrance. Follow the signs to the NAC entrance then look for the pink signs for Back Stage. Helpful staff will be there to direct you.
Parking for patrons with mobility issues
Please park on P2 in the K, L, M sections and exit near the Rideau Canal. Pink signs and staff will help you get to the Back Stage.
READ MORE